This is my application essay for a $10,000 blogging scholarship from collegescholarships.org.  As I was writing it I realize how much this blog has changed my life over the past year and I wanted to share those observations with you.
I find out today whether or not I am a finalist for the scholarship.  You can vote for the finalists once per day over at the website.
UPDATE: I have been selected as a finalist!  Please vote for Emily and Evolving Personal Finance once per day until November 28!  Thank you for your support!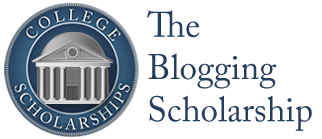 In my five years as a PhD student, I have encountered many challenges: my advisor checking in on me in lab at midnight, cells contaminated by mystery bacteria, pre-meds arguing with me over homework grades, and a formidable immunology course that threatened to sink my GPA.  None of these challenges, however, has been as long-lasting and ever-shifting as my desire to live to the fullest within the means my graduate student stipend provides.  There are always more needs, wants, and goals than there is available cash when you're living on $24,000 per year – year after year after year!
I developed an interest in personal finance (PF) immediately after college when I realized I had been thrust into the (very low-paying) real world with close to zero financial education from my family or years of schooling.  Slowly, I consumed books and blogs on PF and got my financial house in order.  I signed up for a credit card; I took out a loan for a car; I opened a Roth IRA; I saved an emergency fund; I began to tithe; I moved, took vacations, filed my own taxes, planned a wedding, and learned to cook.  And from 2007 forward, I shared those experiences on my personal blog.
Last year, I realized that more and more of the posts on my personal blog were focusing on money – so much so that they threatened to dominate the content.  Simultaneously I started commenting on many PF blogs and desired a "home base" in that community where I could host my own conversations.  With those thoughts in mind, I launched my blog, Evolving Personal Finance (EPF), in November 2011, and I have consistently posted three pieces of fresh content per week ever since.
EPF has developed several thematic areas:
Whenever possible, I try to bring a scientific eye and the mathematical rigor befitting my training in the sciences to my posts, which I believe adds an academic touch.  I have on several occasions read papers from the psychology and sociology literature and written posts explaining the authors' findings ("What Happens When a Spendthrift Marries a Tightwad?").  I do a lot of math behind-the-scenes to help analyze PF questions and illustrate principles ("The Great Debate: 15-Year vs. 30-Year Mortgages").
The post of which I am most proud is also the post that has generated the most search engine traffic – "Earned Income: The Bane of the Graduate Student's Roth IRA".  I laid out what kinds of graduate student pay qualify as "earned income" for the purposes of contributing to a retirement account and backed it up with quotes from the IRS website.  The research for this post involved much Googling, long conversations with administrators at my university, and several phone calls to the IRS.  I initially researched the post to help my own decision-making but soon realized that there was a grave lack of knowledge in the graduate student community regarding how fellowship pay is viewed by the IRS.  I wrote the post to fill that information gap and have been rewarded with many thanks, questions, and in-depth conversations from fellow graduate students struggling with this issue.
The knowledge and communication skills that I have gained through writing EPF and participating in the PF blogosphere have translated offline.  I currently sit on the financial literacy panel recently launched by my university and am working with a partner to create a tax resource for graduate students.  We are writing the content for a fully sourced tax section of my university's PF website and plan to host several workshops leading up to April 15.  I have also started volunteering with my church's financial ministry and have met with several individuals and couples to help them articulate their financial goals and start budgeting.  It is incredibly gratifying to know that my hobby of blogging about personal finance has enabled me to help people gain clarity and confidence regarding the decisions they make about money.
I have also personally benefitted from writing EPF and participating in the PF blogosphere.
I have random facts regarding credit cards, retirement accounts, tax deductions, etc. coming out my ears and can discuss money with a much more diverse group than just graduate students and young adults.
I receive feedback and suggestions on my budget and spending habits, about which I post monthly.
I have a greater appreciation for how much influence our psychology has in our money decisions.
I have learned how to talk about money sensitively with people who are struggling.
I better understand how different families choose to put the "personal" in PF and can offer multiple solutions to nebulous difficulties.
I have many more open conversations regarding money with my friends and family – EPF has helped us all get over the taboo.
If I were to win The Blogging Scholarship, I would use part of the money to expand the reach of my blog.  I would host a giveaway to attract more readers and subscribers and attend the annual PF blogger conference next year for networking.  I also would hire a professional for a few of the design components on the blog and purchase some books and other professional development resources for bloggers.  The rest of the money will certainly help my family with the financial pressure of living on our graduate student stipends so I can free up my mind to focus on my dissertation – and my blog.
Thank you for your consideration.  UPDATE: Please don't forget to vote for Emily/Evolving Personal Finance once per day!  And to entice you to click over, you can find out my last name… 🙂
Have you applied for any scholarships post-high school?  What is the largest amount of scholarship money you applied for or won?
Filed under: blogging · Tags: contest, essay, scholarship, voting