I found tracking and budgeting very difficult this month – it was the combination of lots of spending on Christmas gifts and that we were traveling for over 1/3 of the month.  Sticking to our discretionary budget was nearly a lost cause and not even our targeted savings accounts could save us completely!  Zeroing-out-wise, it turns out that you can't spend $460.34 on cell phones in a month (on a budget of $95) and expect to come out unscathed.
The Everyday Budget
Our non-discretionary categories aren't changing at all now – INCOME, SAVINGS, rent, and internet – which you can find in our last budget iteration.
Our GIVING to our church was a bit higher than usual in December – Kyle and I had a miscommunication that resulted in an "overpayment," which we chose not to correct.
Although our cell phone bills will be regular for most of the year, this month we had a crazy lot of spending.  Last month we bought a new smartphone for me, but we're waiting to cut off my old dumbphone until we're sure that Sprint has adequate coverage in Durham and we won't have to undo our decision.  While the initial cost of my phone came out of savings, this month we paid two bills ($35 for the dumphone, $22.28 for the smartphone).  Kyle also finally decided on a smartphone – the iPhone 5!  So we bought one in December and paid double a monthly bill for the plan and a leftover bill from Kyle's old phone.  This is going to be even more of a mess than it already is because Kyle has nearly decided to leave AT&T for Verizon.
In terms of our discretionary spending: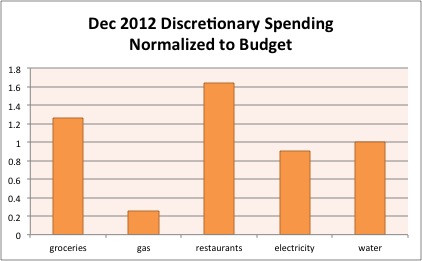 Groceries:  Another month over our budget, but I have all kinds of excuses!  I also think we'll do better next month.
Gas:  Because I reimbursed us for our gas spending to and from my parents' house for our flights and while we were in CA, it seems we didn't spend much out of our normal gas budget.  We were only in town for a bit over two weeks because of our traveling so I guess that makes sense.
Restaurants: We ate out 1.5 times in Durham before we left for Christmas break.  We actually ate out at least once per day while we were in CA so that was a crazy lot!  But Kyle's parents treated us every time and even some of the other meals were treats by other family members and friends, so it turned out that we only paid for three meals the whole time we were there!  (Thanks everyone!)
Electricity and Gas: Under budget for this month, but not looking good as it gets colder here!
Water: We reserved our full water budget this month to help pay next month's double bill.
Every month we also have some random other transactions that aren't covered in the budget but aren't supposed to be taken out of a targeted savings account:
I spotted two people a total of 5 quarters while we were in CA
we redeemed $73.15 of credit card rewards
we gave a holiday tip to the janitorial staff in Kyle's building
Kyle bought a cover for his new iPhone for $5.95
Spending Out of Targeted Savings
We didn't have too many transactions out of our targeted savings accounts this month, but the ones we did have were pretty large!
Travel and Personal Gifts
We paid for our Christmas gifts out of this account ($381.90) and reimbursed ourselves for our travel gas ($100.95).  The discretionary part of Kyle's paycheck from November also went into this account.  I would have reimbursed us more out of this account but we pretty well drained it!
Cars
no spending this month
Entertainment
no spending this month
Appearance
no spending this month
Medical
no spending this month
Electronics
Kyle bought his new phone this month and we took $75 from this account (all that remained).
Charitable Giving
We made a spontaneous cash donation to Kyle's parent's church and picked out a few gifts from the Samaritan's Purse gift catalog.
Nest Egg
We took $138.99 from this account to pay for the remainder of Kyle's new cell phone.
Taxes
no transfers this month
Budget Adjustments
We wrote three new budgets last month and it looks like we'll be implementing the "payroll taxes" version of our budget, at least until fiscal cliff negotiations continue (?) in a few months.
Bottom line
We blew it!  We took a cash infusion of $138.53 from our nest egg to zero out this month.  That's the first time in the 9 months we've been doing these updates that we've had to do that!  Here's to going back to usual in the new year.
How crazy was December for your budget?  How did you handle paying for Christmas?  Do you overlap your phones when you sign a new contract to make sure everything goes okay?
Filed under: month in review · Tags: busted budget, cell phones, Christmas