Kyle and I have completely joint finances – no allowances or "blow money" or anything similar – because 1) we agree on most everything anyway, 2) I don't think we have a high enough income to spend on things we can't both agree to, and 3) we don't know how to halt the creep of separate finances that starts with designating any money as "mine" and "yours" instead of "ours."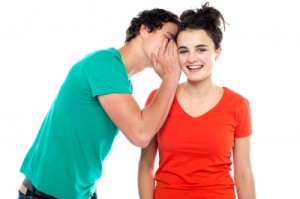 Not only do we have joint finances that we both monitor, but we don't spend any money without consulting the other person.  I know other couples have a spending limit over which they have to check in with each other before making the transaction, but for us that is $0.  To be honest, this doesn't take a lot of extra communication because we don't make many purchases, but another factor that has helped a lot is sharing a car.
Last March, my car needed some repairs and we decided that we didn't really need the second vehicle given that we work at the same place and do most of our socializing together.  So we've been operating as a one-car household since that point, which means that our communication about our schedules and the errands that need to be run has really increased.  One of us can't leave the house without telling the other where we're going and for how long because we don't want to leave the other stranded!
Because we have this high level of reporting our whereabouts to each other, it's made communicating about future spending very easy.  First, we do most of our errands together, particularly the spontaneous ones that would be the most difficult to remember to communicate with one another.  Second, we have to tell each other anyway when we're going somewhere so it's straightforward to mention all the retailers we plan to visit and the money we plan to spend.
Of course, if we spent a lot of money without leaving our home, for instance through online purchases, sharing a car wouldn't help our joint finances at all, but that isn't the case for us.  So while dropping our second car hasn't helped our bottom line financial much at all, it is definitely supporting our joint money lifestyle and making communication a breeze.
What circumstances in your life have helped or hindered communication around money or your finances generally?  What is your system for communicating with your spouse about your joint money?
photo from Free Digital Photos
Filed under: cars, marriage · Tags: communication, one car