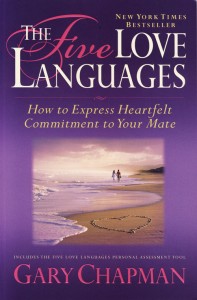 I'm sure that many of you are familiar with Gary Chapman's theory of the Five Love Languages (affiliate link – thanks for using!).  But have you ever considered how your love language and your spouse's love language might affect your spending habits and career?
For those of you who haven't read any material by Chapman, I'll briefly summarize the idea:  Every person has an emotional "love tank" that can be filled or emptied by their relationships (we'll focus on the marital relationship).  Happy marriages are created by spouses regularly filling each other's love tanks, and marital dissolution many times occurs after the tanks have been empty for quite some time.  The most effective way to fill your spouse's tank is by speaking his primary "love language."  Chapman has identified the five love languages that people identify with: words of affirmation, quality time, receiving gifts, acts of service, and physical touch.
Words of Affirmation
If your spouse's love language is words of affirmation, you fill her love tank by speaking or writing kind, complimentary, encouraging words to her.  That's it!  I don't see any financial ramifications to fulfilling this need as "talk is cheap" (but not to someone who has that love language!).
Quality Time
The need for quality time spent together could manifest itself as having focused conversations or doing activities together.  Conversations likely won't require spending, but activities together (especially vacations!) definitely could.  Of course, a spending-conscious couple could easily find ways to have quality time together without spending money.  One major effect might be on career choices.  If your spouse values quality time, you would probably damage or dampen the relationship by taking a job with long hours or frequent travel.  There may be ways around this – for instance, if your spouse loves quality conversations over activities, he may by satisfied with a nightly phone or Skype call – but anyone in this type of relationship should carefully consider whether and how being away from your partner for long periods would drain his love tank before choosing that job.
Receiving Gifts
This love language plainly has a financial implication – most gifts cost money!  Compared with a couple that doesn't value gifts, one that does may spend a decent amount of money fulfilling this need.  If you are on a tight budget, probe whether or not "it's the thought that counts" for your spouse and find ways to fill his tank with your time an effort instead of money.  Chapman assures his readers that "the cost of the gifts will matter little, unless it is greatly out of line with what you can afford" (The Five Love Languages, p. 84).
Chapman addresses the spender/saver divide by encouraging a saver to think of gifts as an investment.  "If you are a spender, you will have little difficulty purchasing gifts for your spouse; but if you are a saver, you will experience emotional resistance to the idea of spending money as an expression of love…  If you discover that your spouse's primary love language is receiving gifts, then perhaps you will understand that purchasing fits for him or her is the best investment you can make.  You are investing in your relationship and filling your spouses' emotional love tank, and with a full love tank, he or she will likely reciprocate emotional love to you in a language you will understand." (The Five Love Languages, p. 85-86.)
Acts of Service
Generally, this love language means receiving acts of service, but like any other love language we tend to speak what we want to hear.  I think that a spouse having this love language might be able to save the couple some money (if not time).  If a similar couple without an acts of service love language might be inclined to outsource certain household tasks, one with this love language would value the other spouse performing acts to show how much she loves her spouse.  These actions could include cleaning or picking up the house, maintaining the car, caring for children, preparing food, giving a massage, and much more.
Physical Touch
The emotional need for physical touch is in addition to the physical desire for sexual intercourse (just to get that out of the way).  Someone with this love language would greatly value small touches like hugging, hand-holding, hair-stroking, etc.  Like words of affirmation, the touching itself shouldn't have a financial impact, in my mind.  But similar to quality time, a spouse with this love language would have a very difficult time if she or her spouse had to travel frequently for work or their hours together each day were limited.  So there may be some career limitation here as well.
My love language is quality time with a close second of physical touch, so while I find the prospect of management consulting work (for instance) attractive, I don't think I could stand being away from Kyle several days per week and working such long hours.  Aside from that limitation, I find that those love languages pair well with our frugal ways.  (Kyle refuses to tell me what his love language is.  I try to sort of do them all, except gifts.  One of these days I'm going to sneakily administer the quiz to him.)
Have you identified your and your partner's love languages (take the quiz)?  How has your or your partner's love language affected your finances?
Filed under: books, marriage, psychology · Tags: 5 love languages, Gary Chapman, gifts