Late last fall we realized that our grocery spending had really gotten out of hand, even though we increased our budget from $360 to $400 per month. In November we spent $484 and set ourselves a grocery challenge – several goals that we thought would help us reduce our grocery spending to under our budget. The first month of our challenge, December 2012, was not successful – we spent $502 – but I was feeling hopeful about our strategies.
In January we kept up most of the goals we had set for ourselves, but our spending was still too high ($500). The key goal that I failed to set for myself (Kyle is not the problem in this area) is to tell myself "no."
Our philosophy of budgeting is not necessarily to use our budget as a restriction to spending but rather to help us plan and make sure that our spending and saving is balanced. So it could be the case that we just need to spend more on groceries and we need to increase our budget, or it could be that our spending is out of line here and we need to find a way to cut back.
The main problem is that I don't eat certain foods that happen to be inexpensive that other people might turn to reduce their food spending, such as potatoes, rice, and corn- and wheat-based products. Kyle thinks that if I were serious about cutting back on grocery spending I would turn to these carbohydrate-heavy alternatives since they would not cause an immediate health crisis, and I suppose that is true – I do value my health more than going over our budget by 25%.
But that doesn't mean that I can't try to meet my nutritional goals and stay in budget some other way. That's what this challenge is really for – I didn't have all the answers on how to do this up front but I'm learning more from paying additional attention.
Once Per Week Shopping Fail
I have observed that shopping only once per week is not necessarily helping us spend less. The idea was that if we let ourselves run out of a few items each week we would be forced to eat down our fridge and pantry in other ways and maybe even reduce waste. The way it has worked out is that I never let myself run out of an item, which means that I have the potential to overbuy if I don't know exactly how much I will consume. This is even teetering on generating more waste as sometimes I buy produce that I don't even start to use for 5 or 6 days.
I think in the future we may relax our Saturday-only spending. Our natural Costco visit frequency is more like once every 1.5 weeks so we've been going more often than necessary recently.
Meal Planning Success?
One solution I thought of to combat the overbuying (other than shopping more often) is to actually engage in meal planning, which I started to dabble with that in the latter half of January. I never thought meal planning was for me because I just cook for myself and eat more or less the same stuff all week. I wasn't great at it at first – the meal plans got derailed around halfway through each week and I had to retroactively edit. In the second week into February I'm not a bit better at sticking to the plan and I think it is helping me reduce the amount I buy each week.
This is my meal plan for this week, for those interested.

Our spending was lower in the second two weeks of January ($187.19) than the first two ($312.93) and maybe that had something to do with the meal planning. We have to see how February goes to make a determination on that part of the strategy.
Total Spending
So what did we actually spend?
This month alone: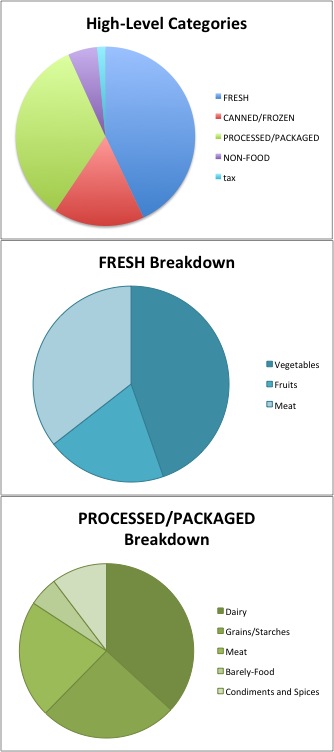 December and January: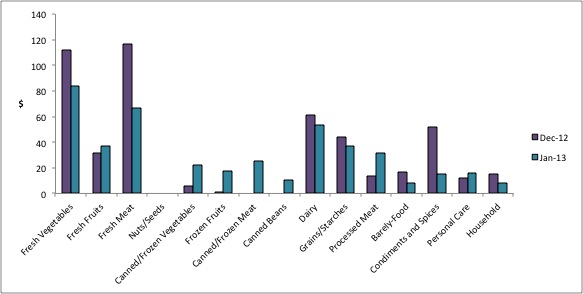 I think the general trend here is that we spent a bit less money on fresh vegetables and meat and substituted for more canned and frozen items that were likely at lower cost. We also didn't buy a crippling amount of condiments! I am buying more fresh berries than I used to because I want a bit of fruit in my diet. Kyle also complains that I buy asparagus too often (apparently it is expensive?).
I am hopeful that the meal planning purchase delaying/eliminating trend will continue and we can finally get back under budget in February. It's a short month so we have the best chance for a while! The rest of the goals have become fairly automatic with the exception of hitting up new stores – we now have a synched app on our phones to keep our grocery list, I always check the sales (but rarely buy), etc.
Is your budget a guide for spending or hard limits? What do you do when your initial strategies don't work out? Do you meal-plan?
Filed under: budgeting, food · Tags: groceries, meal planning, overspending