This is my one-month update on how EPF is doing based on our September 16 – October 15 data.  We've been feeling rather aimless about the blog recently so I think we're going to set up some monthly goals in terms of things to learn about and implement to grow it.  Believe it or not, we are coming up on our 1 year anniversary of the blog!  I should think about having a giveaway, I suppose…
Oh!  And I'm going out of town later in the month for a conference so I'm looking for a guest post to ease my workload leading up to the trip and while I'm away.  So if you have a post ready or an idea you want to propose please email us at evolving PF at gmail dot com.
Let's lead off with something fun – this month's search terms (from real people, not bots)!
wedding car hire london for blog commenting with one comment
how much i should spend on shoes at my income level
struggling with personal finance on doctors income
why do middle class parents produce low class children
financial counselor in portland maine featured on news
what is the average amount spent for washing uniforms annually
People who listen to us, as of October 15, 2012:
RSS subscribers: 107 (+19)
Twitter followers: 110 (+18)
Facebook fans: 23 (+2)
Rankings:
Alexa: 196,363 183,148 (+13,215)
Google PR: 2 (no change)
MozRank: 4.91 (+0.05)
Some Google Analytics statistics: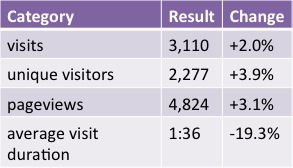 Popular Posts
Most viewed posts:
1) Average Clothes Spending and Pattern
2) How to Move Out on a Shoestring Budget
3) Earned Income: The Bane of the Graduate Student's Roth IRA
4) The Slippery Slope of Separate Money Spouse's Love Language Affect Your Finances?
5) What Do You Want Your Life to Be Like in Five Years?
Most Commented Posts:
Expectations of College Attendance
Easing the Financial Burden on Wedding Attendants
When Top-Down and Bottom-Up Budgeting Clash
Needs Becoming Wants: My Weekend Without
I'm feeling a little stagnated in the blogs that I read – can anyone make a recommendation of a PF blog that she really likes?  What would you want to see as a giveaway on this blog for our 1-year anniversary?
Filed under: blogging, month in review · Tags: blog statistics, search terms