Last month we were way over our grocery spending and this month we are way, way over!  Two months in a row is real red flag.  This is such a big chunk of our budget that these large overages are affecting our bottom line – the only reason we've been in the black the last two month has been our yet-unincorporated cost-of-living raises from September.  Looking back in Mint, it seems that our grocery spending spikes every fall/winter – usually November, sometimes October or December.  Maybe it's the additional social events around the holidays or the seasonal baking – whatever the reason, it's a trend I can see over in the fourth year now.  And I'm not the only one!
Whatever the reason, though, we have to exercise some self-control and apply some of the spending-reduction strategies we've become lax about to get back under budget.  When I discussed these plans with Kyle, he said that he didn't want to do any additional work around the grocery shopping because "I don't think I've been overspending – my eating hasn't changed."  After he made this protestation several times and I reassured him each time that I wasn't accusing him of overspending, I realized he was passive-aggressively blaming me for the overspending!  (Probably a reasonable guess – I've been buying a lot of almond flour and coconut oil, both of which are quite pricey.)
Here are the new disciplines I am going to implement to carry us through this winter without blowing our grocery budget every month.  I'll update at the start of January on how well we adhered to these disciplines and then again monthly until we get through this danger period!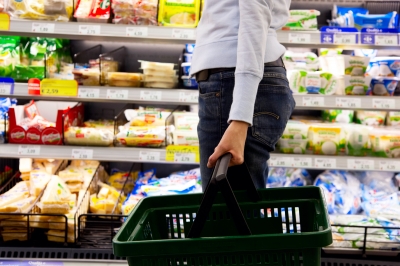 1) Continuously keep a shopping list.
We do shop with a list nearly every time, but we tend to make the list right before heading out to the store.  The result is that we often forget items, which means additional shopping trips (usually without lists) and that can tack on additional items that could have been delayed.  When we run out to the store we go to the one closest to us instead of the one with the best prices.  I'll make a "usual suspects" list to print out and keep in the kitchen and then jot down additions and cross out what we don't need as the week goes on.
2) Track every single item we purchase and look at the aggregated data.
As of now we track all our spending and keep our receipts, but I only intermittently make entries into our pricebook and to this point we haven't made master lists of everything we've bought.  I have in the past calculated the cost of all my meals, but this is slightly different as I'll only be tracking new spending, not the use of things we already own.
I will aggregate all the individual items into these groups (might edit as the month goes on) and determine which categories are the major moneysucks and which are the big targets for cost reduction.
fresh

vegetables
fruits
meat
nuts/seeds

canned

vegetables
fruits
meat
beans

processed/packaged

dairy
grains/starch
barely-food
condiments and spices

non-food
3)  Shop on a consistent day of the week.
I want to make Saturday our primary (if not only) shopping day of the week.  By getting all the shopping out of the way on Saturday morning, I have time during the rest of the day to do the chopping and produce preparation before the produce starts going soft.  We usually go through certain produce items in 5-8 days so I think once per week will fit in well with our current eating patterns.
4)  Check the weekly specials (and compare with my pricebook) to buy on sale.
For a while I was checking out the weekly specials at our local stores so that I could buy sale items, but I haven't done it in months. My pricebook, though incomplete/slightly out of date, is still pretty useful for this sort of thing.  Often the grocery store sale prices are still not as low as what we can get at Costco or ALDI.  I'll note which of our typical buys are on sale using the weekly specials available online from Kroger and Harris Teeter, then cross-check the sale price against the price I've gotten in the past at other stores, and add the sale items to our shopping list if they are the best price.
5)  Add in some meal planning.
Kyle and I eat the same things over and over again so we don't really meal plan per se.  I'd like to get back into using our crock pot, though, so every week of this month I'll pick out a new batch-cooking recipe to try out.  I think these recipes are usually cheaper than what I make in smaller batches day-to-day.
6)  Visit low-cost stores first.
Every Saturday I plan to hit the farmer's market, then Costco, then Kroger (then Harris Teeter and Target, if necessary) – that way I can adjust the rest of my buying around what I get at the farmer's market.  We stopped shopping at ALDI when we moved but I think we should resume going there once per month near the beginning of the month.  Every week our list will just cascade from the lower-cost vendors to the higher cost so we don't have to guess if we can get something for less.
7)  Evaluate additional sources for groceries.
I'll set a goal to visit one food retailer that we haven't used before to compare some prices this month.  There are several in my area (ethnic grocery stores, Trader Joe's, Food Lion) plus I've never ordered food off the internet (Amazon) so we have plenty of options.
This challenge is going to be especially hard to implement starting this December as we are only in town for about three weeks.  If we have to buy groceries when we are in CA, as we have many times in the past, that will jack up our spending.  Plus there may be some waste if we can't prioritize our fridge and pantry to be eaten down before we leave on our trip.  Still, there is no better time to start than the present.
At the beginning of January I'll update you on how we did on each of these seven steps, including the table of the money we spent on various categories and how I want to adjust our spending based on that data.
What practices do you tighten up when you realize your grocery spending or another budget category is out of control?  How structured are you in your grocery listing and shopping?
photo from Free Digital Photos 
Filed under: food · Tags: budgeting, groceries, lists, overspending