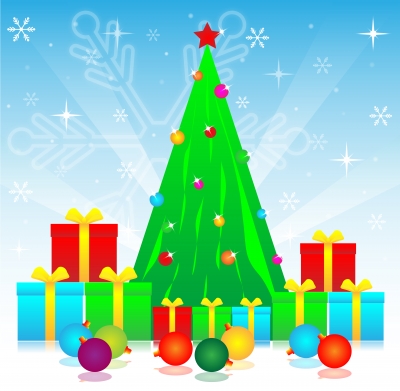 Kyle and I finished our Christmas shopping this past weekend!  Well, we essentially started and finished it this weekend so it went pretty fast.  Giving gifts to only long-distance recipients is a double-edged sword – we have to shop online and early so that there is time for shipping, which goes against our procrastinating nature, but that means the shopping is done well in advance of Christmas and that reduces the stress!  ("Well in advance" meaning before Christmas Eve, which is when I used to shop when I could do it in-store.)
Our challenge every Christmas is to give gifts to a lot of people while not letting our spending get out of control.  In my family we only give gifts to immediate family, but in Kyle's family they give gifts for the entire large extended family.  It's a lovely tradition but rather overwhelming!  (And it's not my place to re-cast what they (and my family) do, as much as I would like to.)
Because of our different views on gift-giving, Kyle and I clashed during our first Christmas season as a married couple and ended up spending way more money than we should have.  (Kyle, accustomed to giving to so many recipients, used to bake for his gift or pick one inexpensive gift for his girl cousins and one for his boy cousins.  I had always given individually selected store-bought gifts to my smaller number of recipients.  Of course the compromise was expensive singly-selected gifts for a large number of people!)  Last year we gave store-bought gifts to everyone but we capped what we could spend on each person.  This year we decided to give store-bought gifts and add in a bit of homemade food as well.
Based on how much better Christmas 2011 went than Christmas 2010, we kept some of the same goals: Cap spending at $50/recipient for immediate family members and $10/recipient for extended family members and pay as little for shipping as possible.  We no longer have Amazon Prime (affiliate link – thanks for using!) so we have depended on ordering early to get free super-saver shipping.  Now that all the ordering is done (with only two more gifts to buy once we get to CA, which we have already picked out) I'll share how we selected all the gifts we wanted and cut spending where we could.
Check Out "Best Gifts" Lists Under Your Cap
Kyle spent quite a bit of time paging through Amazon's toy section with the "under $10" filter on and I searched out many "best ____ under $10" lists for games, books, and toys for X age and Y gender (affiliate link – thanks for using!).  Try to avoid even seeing products that exceed your cap so you won't be tempted to buy them!
Familiarize Yourself with Inexpensive Gift Categories
This year, we gave a lot of books, card-type games, and simple toys (balls, puzzles).  These types of gifts can be quite inexpensive and you can pick out an excellent, well-regarded title or type within that general category that you think would be best for the recipient.
Sort Wish Lists
If you have received an online wish list from someone you want to give to (we use wedding and baby registries around this time, too), open up the list and right away sort from lowest to highest price and pick a gift below your cap.
Compare Online and In-Store Prices
People have their own natural preferences of online vs. in-store shopping.  Personally, I hate fighting for parking spaces and don't feel the need to poke and prod gifts before I purchase.  But once you pick out the gifts you want, compare the prices in-store vs. online (don't forget tax and shipping!) and buy from the lower-priced retailer.
In our case, we don't have time to shop for everyone once we get to CA so we have to order online and we just go with whatever retailer will give us free shipping.  But we did pick out a few gifts that weren't eligible for free shipping, and we ended up buying a them in-store to pack in our carry-ons.
Use Your Old Gift Cards
We have random gift cards that we haven't gotten around to using because we either never visit those retailers or we forget.  We were proactive in this season and put gift cards toward our non-Amazon purchases to reduce our total out-of-pocket spending.  (I actually have a $25 Amazon gift card waiting for redemption from my insurance company, but I didn't remember in time to get it shipped!  Darn!)  I guess this is a form of regifting, but probably its more innocuous form.
Use Rewards Cards (Since You're Shopping Anyway)
I only advocate using credit cards for rewards if you always pay off your balance completely.  If you're a responsible user and you have rewards cards, be sure to put your spending on whichever card will give you the most rewards!  Most of our Christmas spending has gone on our Amazon rewards card, for which we get 2% cash back.  The rest has gone on our base card for 1%.  We also applied some of the cash rewards we had already earned toward the new balances to reduce what we need to transfer from our checking accounts.
Consider Homemade
Homemade isn't always possible, nor is it necessarily less expensive.  But if you have the time and the inclination, I think people appreciate the personal touch.  We will include a small amount of homemade food to our gifts.
What have you done this year to keep your holiday gift spending in check?  Do you cap your spending as a total, per-person, or neither?  Have you implemented any changes to your gift traditions to make them less expensive and more meaningful?
photo from Free Digital Photos
Filed under: budgeting, giving, spending · Tags: Christmas, gifts