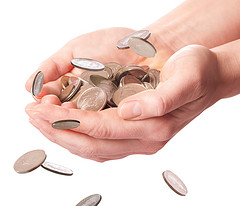 I've added a new podcast to my rotation – Ric Edelman's The Truth About Money.  I don't know how well-known RE is nationally, but he works in the area where my parents live so I've heard of him a few times.  He has a totally different money philosophy than Dave Ramsey (low-interest debt is great!) so I started listening to it to safeguard against becoming brainwashed by DR.
During last week's show the hosts were discussing meeting with clients and how easy it is to tell when they don't have a budget – if they aren't saving money and generally don't have their stuff together, they definitely don't have a budget.  But the hosts argued that if their clients are meeting reasonable savings goals they won't insist on the clients making and following a budget.  Kathleen recently admitted the same thing on her blog – she doesn't keep a budget but just has auto-withdrawals for savings and paying down debt and generally has her stuff together.  The rationale is that if you are doing the right top-level things – saving enough for the future, paying off high-interest debt, etc. – it doesn't really matter how you choose to spend the rest of it.  Just live how you want and rest assured that you are meeting your goals.
This is idea is so foreign to me!  I've kept a budget and tracked my spending continuously since I graduated from college and started managing my own affairs.  I have literally never lived any other way.  However, we don't keep a super super strict budget – we don't always tell ourselves no when the numbers say we should – and there are lots of different interpretations of how to budget.  I can see how it might be possible to live without a budget, if we 1) were meeting all of our savings goals (we are not), 2) continued to be frugal without the budget telling us to, and 3) had more of a natural gap between our money available for spending (i.e. salary) and our typical spending.  But since we aren't meeting our goals, because we're apparently unable to balance all of them satisfactorily on our salaries, I feel we do need to keep a budget.
However, I draw a distinction between budgeting and tracking.  I don't think I will ever stop tracking our spending, especially since it is so easy and automatic with Mint or your tracking software of choice.  If I'm ever going to venture out on the limb of not sticking to a budget, I'll definitely want to have a baseline of data to work with if things go awry.
I wonder, though, if I have the personality to drop budgeting even while keeping tracking.  I suspect I'll never be satisfied that we're meeting all our goals.  If our only goal was well-funding a retirement account that would be possible to accomplish and then leave the rest up to whatever.  However, I think I'm such a planner that I'll always have multiple goals – retirement, giving (we can always do more here!), travel, near-term savings, cars, children's college – and I doubt we'll be able to fulfill all of them to our heart's content, so we'll need a budget to help us prioritize.
Have you ever not budgeted or not tracked (while being responsible)?  Would you consider dropping budgeting or both in a different life situation?  Do you think it's a personality issue?
photo by Tax Credits
Filed under: budgeting, goals, podcasts · Tags: budgeting, Dave Ramsey, goals, Ric Edelman, satisfaction, tracking