I've decided to start a series in which I look back on the previous month's spending and saving and report how we matched up with our goals (i.e. budget) and what we spent out of our targeted savings accounts.  The point is to give you a deeper look into how we spend our money (to provoke discussion) and to provide us some accountability.
In April we had three weekends on which we were traveling, so I'll separate our spending in those situations from our normal budget.
The Everyday Budget
Things that stay the same every month and are not interesting to report:
INCOME: our paychecks
SAVINGS

Roth contributions
targeted savings accounts

GIVING
EXPENSES

rent
cell phones
internet
In terms of our discretionary/variable spending, we did not exceed our budget in any category!  This rarely happens so it's kind of worth celebrating. * pats self on back *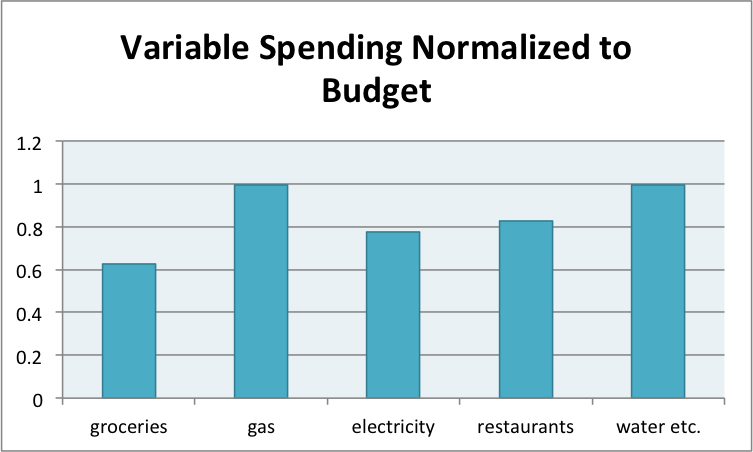 Groceries (also includes drugstore items): We had an unusually low-spending month in terms of our groceries.  We were regularly overspending our $300/month budget so we increased it to $360/month a few months ago and that's been much more reasonable for us.  This month was probably pretty low because of our two weekends traveling and we started getting our CSA box so we had produce and meat from that source.
Gas:  Our gas budget level is left over from when we had two cars and I had hoped that we would reduce it by 20% or so.  You can see that we spent just about our full budgeted amount this month, but that included fill-ups on the 1st and 25th of the month, so it was probably just a high month that will smooth out with the surrounding months to give an average closer to that 20% reduction figure I had wanted.
Restaurants: Nothing special to report here.  We had take-out once (which we haven't done in forever!) and went out to dinner with a large group once.
Every month we also have some random other expenses that aren't covered in the budget but aren't supposed to be taken out of a targeted savings account.  This month we are either getting reimbursed for the expenses or were covered by the excesses from other categories.
Atlanta meal: On April 1 I was traveling back from the case competition and I bought breakfast in the airport for $5.52.  This expense (and my other meal that weekend from March) were reimbursed in early May.
Luggage: Kyle and I received two lovely carry-on bags as a Christmas present.  Unfortunately, while they were advertised as being carry-on-sized, they were a couple inches larger than the regulations in each dimension.  (Watch out for this, by the way.  When we called the company, they said they report their sized based on piping-to-piping measurements, meaning they don't include the wheels or external pockets.  How silly is that?)  While we know that it's quite rare for anyone to actually check that a carryon bag meets regulations, we decided to return these egregiously oversized bags and buy two more that were at least closer to the regulations.  We paid for those bags up front and the family member who gave us the original bags reimbursed us as our gift.
Taxes: We paid $67 in (additional) federal tax in April.
Spending Out of Targeted Savings
Travel and Personal Gifts
Lots of spending out of this account this month!
Tennessee Wedding Trip:  I already wrote about and showed pictures from our weekend, and the total that we spent out of our savings for this trip was $413.23.  Half of our hotel was paid for in March but the rest was from April.
5-Year College Reunion Trip: Our BIG trip this month was flying to CA for our 5-year college reunion.  We bought our plane tickets and paid for our registration in February, so the money we spent this month was on food and gas.  (We stayed with Kyle's parents, so no lodging costs, and we borrowed their car, so no rental.)  We ate nearly all our meals at the reunion, which we had paid for in advance.  One of our friends took us out for breakfast (thanks CN!) on Saturday, on Sunday we went to brunch in our college dining hall for old time's sake, and Kyle's parents took us out to dinner on Sunday night before our flight.  We filled up half a tank of gas on Kyle's parents' enormous car, so that was surprisingly expensive.  We also parked our car at the airport while we were gone, which was $6/day.  The total amount we transferred out of this account for the trip this month was $92.20.
Cars
No spending this month.
Entertainment
No spending this month.
CSA and Local Food
No spending this month.
Appearance
No spending this month.
Medical
We spent $333 at the dentist this month.  We don't have dental insurance so we paid out of pocket for cleanings and diagnostics.  We also refilled our BCPs this month and so transferred $30 from this account to cover it.
Electronics
No spending this month.
Charitable Giving
No spending this month.
Budget Adjustments
We didn't change any of our major budget categories this month.  Starting next month we are shifting $45 from our going into our Cars savings account to adding to our Medical account savings rate.
So that was April money-wise!  It was rather exciting because of our unusual amount of travel, but that reduced our normal-type spending.  We ended up with a $98.29 surplus!  I'm not zeroing out the checking accounts though, because we are putting an additional installment into Kyle's Roth next month so we need almost an extra $100 for that.  I hope I'll be able to zero out at the end of May and transfer some extra money to savings.
How was your April?  Have you had many months that were as on-target/low-spending as our April (quite unusual for us!)?  What happens to your budget in months that you travel a lot?
Filed under: month in review · Tags: dentist, reunion, travel, wedding