This is my one-month update on how EPF is doing based on our August 16 – September 15 data.  Not much commentary from me in this post.  I'm feeling a little down about the stats but I know at least a few steps I need to undertake to improve them so I just need to get on those actions.
People who listen to us as of September 16, 2012
RSS subscribers: 88 (-3)
Twitter followers: 92 (+17)
Facebook fans: 21 (+3)
Rankings
Alexa: 183,148 (+26,589)
Google PR: 2 (no change)
MozRank: 4.86 (+0.04)
Some Google Analytics statistics: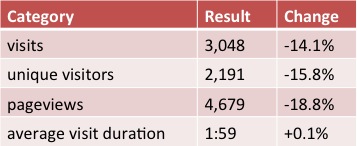 Down from last month but I think the July to August numbers were pretty high for some reason.
Popular Posts
Most Viewed Posts:
1) How to Move Out on a Shoestring Budget
2) How Might Your Spouse's Love Language Affect Your Finances?
3) How Do You Decide What to Spend on a Wedding Gift?
4) Earned Income: The Bane of the Graduate Student's Roth IRA
5) The Slippery Slope of Separate Money
Most Commented Posts:
1) How to Make an Irregular Income as Regular as Possible
2) How Can We Plan Our Retirement in Our Twenties?
3) Are You a Tightwad, a Spendthrift, or Unconflicted?
3) What Happens When a Spendthrift Marries a Tightwad?
Filed under: blogging, month in review