I guess the biggest news around here is that Kyle and I have discovered that working on EPF is a great tool for procrastinating the real work we should be doing for our PhDs!  We finally have ads on the site to test out the placements we like before we try negotiating for private ads.  Plus Kyle updated our social media and sharing buttons high on the right sidebar – please subscribe/follow/fan/share!
Our traffic really picked up in the last month, especially from search engines.  It was such a big jump that I think it must be due to the fact that we've now owned this domain for a year.  We have longevity!
I didn't win the blogging scholarship that I was a finalist for – not even close!  But I really appreciate all the love and votes you all showed me.  It was fun and I ended up getting a small prize.  Oh, and I become a "Top Finance Blog" according to eCollegeFinder along with about a zillion of my peers.
This is our data from November 16 to December 15, 2012.
People who listen to us
RSS subscribers: 113 (+16)
Twitter followers: 176 (+40)
Facebook fans: 25 (no change)
Rankings
Alexa: 184,930 (-17,780) – my Alexa rank went DOWN for the first time in months!
Google PR: 2 (no change)
MozRank: 4.96 (+0.12)
Some Google Analytics statistics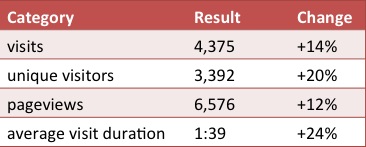 Popular Posts
Most viewed posts:
1) Average Clothes Spending and Pattern
2) How to Move Out on a Shoestring Budget
3) What Do You Consider a Good Salary?
4) Earned Income: The Bane of the Graduate Student's Roth IRA
5) All I Want for Christmas Is a Giving Revolution
6) Boomerang Kids, Listen Up: It's Not All about You
Most Commented Posts:
Boomerang Kids, Listen Up: It's Not All about You
Ways to Monetarily Invest in Your Marriage
Taking Control of Our Grocery Spending
Crazy  and poignant search terms this month (from real people):
is it lawful for married couples to go from joint accounts to separate
how to evolve from lower-class to middle class
how you live out your values day by day in real life
Search terms that actually reflect our content (isn't it amazing?):
how much will my tax increase if we go over the financial cliff
dont order just drinks at a busy restaurant
how to move out of your parents house for the first time
investing money as a graduate student
how to buy a used car from a private party with a loan out of state
Did you see a big boost in traffic when your blog hit the 1-year mark?  Did you dip your toe into advertising or go whole hog and mostly right from the beginning?  What do you think about these sites trying to get pageviews by giving blog awards?
Filed under: blogging, month in review · Tags: blog awards, search terms