I believe I've mentioned this a few times on the blog but haven't explained the full scenario: Kyle is striving to finish his PhD this spring (or, less optimistically, over the summer).  He is currently looking for his first post-PhD job, a postdoctoral position, which is essentially additional training in the lab of another faculty member and will last 2-5 years.  Good news: this job transition will come with approximately a 40% raise over his current stipend and possibly better benefits.  Bad news: it is very unlikely that Kyle's next position will be in the Research Triangle, so we will have to live apart until I finish my PhD, a year or so after he finishes.  The prospect of living apart is so painful that my brain shies away from thinking about it most of the time (even as I talk/write about it), but it's quite common – most dual PhD married couple I know have lived apart for at least a few months during the graduation/job transition process.
Even though we've experienced almost no savings from combining households, I admit that much of Kyle's raise could be eaten up by his new living expenses if he moves to a higher cost-of-living city (which is likely).  But still, I expect that we will have some additional disposable income as we try to keep our lifestyle un-inflated or even cut back on entertainment and other extras so that we can devote some spending money to traveling to see each other.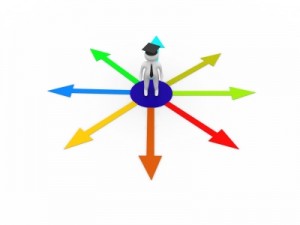 I think this first big transition would be a good time to overhaul our accounts structure and start saving for some mid-term goals.  There are many aspects of our finances that I imagine someone with an outside perspective would want to correct, such as our tiny emergency fund and our random "nest egg" account.  We also need to start saving for a down payment for a home once we move to San Diego (*fingers crossed*) and for our next car.
My proposal for how to change up our financial structure after Kyle has set up his independent household:
1) Repair and reregister my car so that I can get around Durham, then make two "Cars" savings accounts – one for insurance/registration/taxes/permits (regular expenses) and one for repairs + saving for our next vehicle.
2) Throw our "nest egg" into our emergency fund and continue saving there until we get to a reasonable level (defined by our new expenses – probably three months or 6-9 k$).
3) Cut back our retirement savings to 10% and save at least another 10% toward mid-term goals – the down payment and new car funds together (not sure of the ratio).
4) Get rid of most of our short-term targeted savings accounts (since our spending will no longer be predictable) in favor of 1) a line item for "whatever" in our monthly budget and 2) two savings accounts, one that buffers our checking and one for travel so we can visit one another (in addition to the Cars ones).
5) Once I graduate, pay off my student loans with our earmarked savings/investments and throw the excess earnings into our down payment fund.
As of now Kyle and I plan to keep our finances totally joint while we live apart, but I would like to research and write a short series of posts on how other married-but-apart couples handle their money to help us adopt best practices.  If you want to volunteer to be 'interviewed' for that series, please leave a comment on this post or send an email to evolving pf at gmail dot com.
Stay tuned for more discussion on the finances of married couples living apart, Kyle's job and new-home search, and our decisions through this transition!
Have you ever lived apart from your spouse and how did it affect your finances?  Have you ever used a major life transition to clean up your money management?  What mid-term goals are you saving for right now?  What do you think of my proposal?
photo from Free Digital Photos
Filed under: budgeting, transitions · Tags: graduation, mid-term goals, money management, separate households, short-term goals