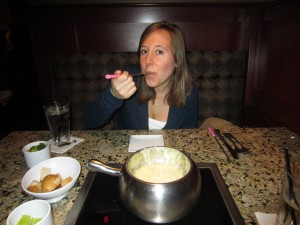 We spent our entire month's eating out budget in one fell swoop this week!  We went out for restaurant week to a place that's been on our minds but out of our price range since we moved here (The Melting Pot).  Our meal took 2.5 hours and we had wonderful service.  I even ate a bit of dessert!  It was fun to have such an interactive meal.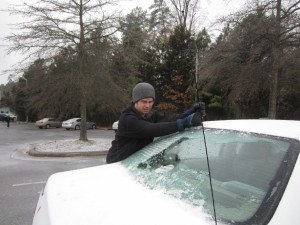 We had another interesting end of the week here because Durham got a bit of snow and ice!  Kyle and I took off from work a bit early on Friday because we didn't want to slip on our long walk to our parking lot and found our car almost completely iced up.  It took us about 20 minutes to get inside and chip away at it with our ice scraper.  There was seriously an ice scraping party going on in our parking lot – everyone was helping each other out and such.  We hardly ever get snow here so it was nice to break up the routine. 🙂
On Saturday we had our basketball group over to watch our team play – and thankfully it went much better than the game on Wednesday!  It was our first gathering at our house of the season, because this game was broadcast on CBS instead of on ESPN.  We hope to do this a few more times before the end of the regular season.
Posts I Liked
David from Money Under 30 answer a reader question about investing money for a short-term goal.
G.E. from 20 Something Finance detailed a new federal student loan repayment program called Pay as You Earn.
Edward Antrobus has decided that a $1k emergency fund while they're paying off debt is just too small.
Lance from Money Life and More explains the options for splitting expenses with housemates.
Suba from Wealth Informatics debunks nine reasons for not making more money.
Mentions
Jake from iHeartBudgets listed How Sharing a Car Has Helped Our Joint Finances in his weekly good reads.
Miss T. from Prairie Eco Thrifter included How Sharing a Car Has Helped Our Joint Finances in her Friday links.
nicoleandmaggie listed Frugal Practices I've Grown to Love in their link love.
Clarissa from Clarissa's Blog responded to Frugal Practices I've Grown to Love in a post on hating the word "frugal."
Carnivals
Egg on My Face: Grad Students and Payroll Taxes was featured in the Carnival of MoneyPros, the Tax Carnival #111, and the Financial Carnival for Young Adults.
Blog Statistics Update December 2012 – January 2013 was featured in the Yakezie Carnival.
How Sharing a Car Has Helped Our Joint Finances was featured in the Festival of Frugality #372.
Top Comments
We had so many wonderful comments this week that I couldn't choose just one!
Ross from Cash Rebel emphasized saving early and often for retirement in Upcoming Transition and a Potential Financial Overhaul: "It's awesome that you are able to start saving for retirement in grad school… Now I see how valuable it is to invest even a little bit as soon as you can."
Eliza from Happy Simple Living makes a great point in Frugal Practices I've Grown to Love that "living within one's means can be deeply satisfying and even fun!"
Most Frequent Commenters
I think this was our highest week yet both for number of comments and number of commenters – thanks everyone!
Heather
Ross @ Cash Rebel
Grayson @ Debt Roundup
Emily too
Kim @ Eyes on the Dollar
Top Blogs Referring to EPF
Filed under: weekly update · Tags: basketball game, restaurant week, snow day