August actually was not as crazy as I was expecting it to be!  We went on a week-long vacation and it was amazing to have that break from work, but it only cost us about $100 because my parents paid for most of it.  We also are completely moved out of our old apartment as of the 31st and have all of our stuff (in boxes) in our new townhouse.  The move went fairly smoothly and the random variable expenses weren't as high as we thought they would be.
The Everyday Budget
Things that stay the same every month and are not interesting to report:
INCOME: our paychecks
SAVINGS

Roth contributions
targeted savings accounts

GIVING
EXPENSES

rent
cell phones
internet
In terms of our discretionary/variable spending: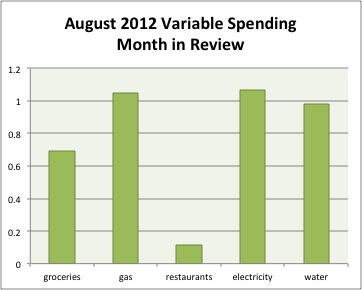 Groceries:  Coming in so far under in this category is what saved our budget this month since we had so many random little purchases in other categories.  I think we did a really great job eating down our refrigerator (and our pantry less so) this month and last, which is why our spending is so far beneath our budget.  Probably the next two months will be higher-spending because we need to restock our food.
Gas:  We slightly exceeded our budget this month – we filled up our car three times for slightly over $40 each time.  Next month should only be two fillups!
Restaurants: It looked like we were going to make it through the entire month without touching this budget category until the very last day of the month!  Kyle was scheduled to meet the person activating our internet at home over the lunch hour so he didn't pack his lunch for work.  But the installation guy was several hours early so Kyle ended up back at work before noon and forgot to eat at home so he bought some fast food on campus.  That's the only time either of us can remember buying lunch on campus in probably 1.5 years!
Electricity:  We exceeded our budget in this category again this month!  Probably it was running the A/C in the height of summer like some suggested last month.
Every month we also have some random other transactions that aren't covered in the budget but aren't supposed to be taken out of a targeted savings account.  This month was unusually spendy!
Four months out of the year, we have five withdrawals to Kyle's Roth IRA instead of the usual four – this was one of those months ($96.15).  (P.S.  Kyle finally admitted he is willing to change his contribution schedule to avoid this problem!  "I couldn't say it when you suggested [changing the schedule], but you're right."  Music to my ears and shows that patience pays off!)
We redeemed $15.00 in credit card rewards.
I bought some clothing from Macy's (affiliate link – thanks for using!) that I've wanted for a while that I know is really great.  I shopped around online and the regular price was always $36.00, on sale for no less than $30.00 at various retailers, which was the Macy's in-store sale price.  I combined that with a $10.00 off coupon that we were mailed plus I bought it on tax-free weekend, so I only spent $20.00!
We spent $29.95 (also on tax-free weekend) on an umbrella to replace one I broke earlier in the summer.
Kyle also bought a couple beach toys for us to take on our vacation for $16.03.
I had a salon appointment in advance of our beach vacation and spent $30.00.
Spending Out of Targeted Savings
In total, we spent $1190.14 out of our savings accounts and added $555.59 on top of our regular savings to them.
Travel and Personal Gifts
The cost of our beach vacation that we reimbursed from this account was $97.13.
We spent $60.30 out of this account on a wedding gift, after applying a 20% off coupon code and a $25 gift card that I got for working out and eating vegetables.
We bought our flights to attend this wedding – we're flying to Buffalo and driving over the border as the wedding is near Toronto.  The total price was $546.40.  We put these flights on our new Capital One credit card and applied the bonus and rewards we received from that purchase back to this account ($105.59)
Cars
No spending this month, though the charge for our parking permit has shown up on our bursar bill, but we are going to pay it in September.  We decided to buy a rideshare permit this year instead of the two permits we got last year.  The price is the same but we get a certain number of daily passes as well, but actually I have no idea how we would use them!  The balance in this account is getting weirdly high because we're saving a lot for repairs that we know we need in the next year.
Entertainment
no spending this month
Appearance
I spent $110 on a new bathing suit (also on tax-free weekend).  I wasn't expecting to spend so much money, but after shopping around for a while I wasn't finding anything that fit my needs so I ended up buying a suit from a higher-end athletics retailer.
Medical
no spending this month
Electronics
We bought a free Kindle this month – and I say bought because we ended up paying $9.39 because we added on a case.  Kyle had been considering buying a Kindle with his birthday money so when we saw that we could get it for free by opening a credit card we jumped on it.
That was our only purchase, but I also transferred $130 out of this account to our Nest Egg account to refund some money we borrowed from it last February to buy some toys for Kyle.  Between those two, this account has been decimated!
Charitable Giving
We spent $48.69 on ground beef and salad to donate to the homeless shelter/soup kitchen dinner that we helped prepare and serve on 8/2/2012.
Nest Egg
Our moving-related costs are being paid out of this account and will be repaid here over the coming months from our rent (and possibly utilities) savings.  This month we shelled out:
$202.10 in rent for the last week of August
$68.97 for the UHaul on the day we moved
$13.52 for gas for the UHaul
$23.35 for pizza for the people helping us move (3 larges from Papa John's with toppings – I found a 50% off promo code!)
$10.29 for Powerade and Oreos for the people helping us move
We also sold our washer and dryer and some rocks and added $250 to this account.  I would say that with that sale we're well on our way to paying back our moving expenses, but we probably need to make a few home purchases that will add up to a couple hundred dollars.
I deposited my cash birthday gift into this account.
This was the receiving account for the $130 transfer I mentioned under the Electronics category.
Budget Adjustments
Our CSA savings account is fully funded to buy one individual share-season next year, so I have halted contributions.  I decided it was smarter to save only during the season that we receive the CSA for the next year's subscription because it will even out our overall food spending throughout the year better.  It turned out we had been oversaving anyway because our CSA shortened their season and the total bill has reduced from when we first started with that farm.  I'm not even sure we'll have a subscription next summer because Kyle may move away and I won't be able to eat the whole share by myself.  If that happens, we'll move the money saved in this account to our nest egg.  I'm going to stop including this account in my targeted savings account spending review because there will be no activity until next January or so.
I think we won't create a new budget until November-ish.  We're getting cost-of-living raises in September and we probably won't pay back all of our moving expenses for a few months this fall even though we're off to a good start because we probably will need to buy some furniture.  The only thing I might adjust before doing a big overhaul is how much we're saving for Travel because of our upcoming underfunded Christmas.
Bottom line this month:  We still had $87.40 left over in our checking account, despite all our random extra expenses!  I'm so glad to be able to report we're still in the black!  I transferred these budget leftovers to our Travel account.
The last time you predicted a crazy month money-wise, did it turn out to be one?
Filed under: month in review · Tags: eating down pantry, moving, vacation